Experience Unforgettable Holidays in Chalkidiki Apartments and Rooms
Agrili Apartments and Rooms offer an exquisite experience. With breathtaking sea views and tranquil garden vistas, complemented by spacious balconies and large verandas. Whether you're a first-time visitor to Chalkidiki or have had less-than-perfect hotel experiences in the past, Agrili is here to redefine hospitality and create lasting memories for you and your family.
When you think of Chalkidiki, let Agrili Apartments and Rooms be synonymous with unparalleled vacations in Sithonia, Greece.
Reserve Your Chalkidiki Getaway
Reservations can be made directly through our website, ensuring a seamless booking process. We thank you for considering Agrili for your holiday, and we eagerly await your visit.
Where We Are and What Our Accommodations Offer
Prime Location in Sithonia
Nestled in the heart of Sithonia, Chalkidiki, Agrili is conveniently located just 100 km from the beautiful Thermaikos Gulf nymph, Thessaloniki. The cosmopolitan Porto Carras is a mere 8 km away, and the bustling resort of Sithonia, New Marmaras, is a short 6 km drive. Nikiti Chalkidiki is within a 10 km radius, and the distance from Macedonia Airport is a comfortable 80 km. For any medical needs, the nearest health center is in St. Nikolaos, a mere 15 km away, and pediatricians are also available in Nikiti and New Marmaras.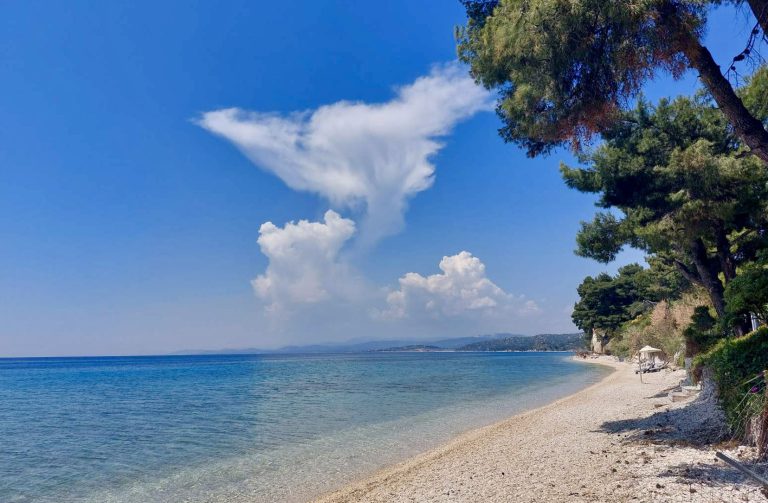 Our proximity to pristine beaches is second to none. Elia Chalkidiki's coastline, just 150 meters from Agrili, is consistently awarded the European Blue Flag. Blue Flag is a mark of its pristine beauty. Nearby, you'll find equally beautiful and clean beaches like Spathies, St. Ioannis. Also, Lagomandra, Kalogria, Nikiti, and New Marmaras, are all waiting to be explored.
Agrili's Aparts Hotel: Where Nature and Luxury Unite
Agrili Apartments and Rooms boast an expansive, meticulously maintained garden that immerses you in nature's embrace. Fragrant pines, palm trees, and vibrant flower beds surround Agrili. This natural haven is the ideal backdrop for your Chalkidiki holiday.
You'll be effortlessly rejuvenated as the Chalkidiki's Toroneos Gulf sea breeze mingles with the scent of blooming flowers and lush trees. Take strolls through the garden with your partner while your children play freely on the grass, expending their endless energy. For moments of respite, we provide numerous shaded resting areas where you can savour a chilled drink.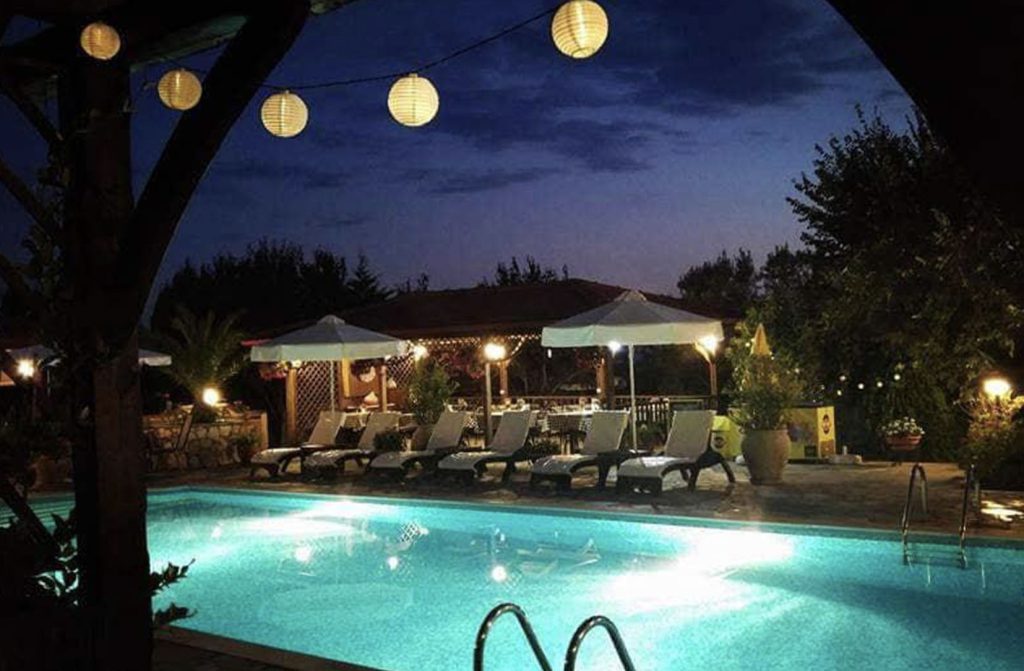 Indeed, our marvellous swimming pool, adorned with exquisite tesserae, adds a touch of luxury to your stay. In addition to swimming, you can bask in the sun on comfortable loungers by the pool's edge or relax under sun-protecting umbrellas while sipping refreshing beverages. The pool area also features a snack bar with tables for family gatherings, providing the perfect setting to enjoy panoramic views of Toroneos Gulf and the pristine Chalkidiki night sky.